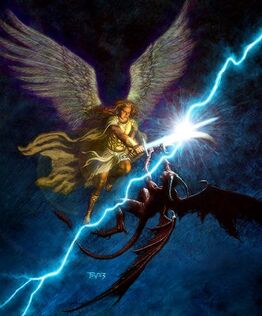 Welcome to This Present Darkness Wiki

Edit
The Darkness series, written by Frank Peretti, consists of two books: This Present Darkness and its sequel, Piercing the Darkness. This Present Darkness Wiki gives information on everything in that series from humans to angels to demons.
The Darkness Series
Edit
The Darkness Series follows the unseen battle between angels and demons through the eyes of both the angels and the humans they unfalteringly protect.
The first novel, This Present Darkness, follows Hank Busche and Marshall Hogan of the little town of Ashton through an incredible journey. Tal, Guilo, and the rest of the angelic warriors work behind the scenes to save the little town of Ashton from Rafar and the demonic forces set on destroying it.
The second book, Piercing the Darkness, brings back old characters and introduces a few new ones. Sally Beth Roe is on the run after an assassin makes an atempt on her life, completely unaware of the demonic forces that are on her tail. Meanwhile, Tom Harris has his children forcibly taken from him for preforming an exorcism on a child he (correctly) suspected was demon-possessed.
Latest activity
Edit